« Return to Company News
Notes From The Inside – September 2004
Hard to believe autumn is upon us. We hope all of you have had a wonderful and restful summer! Here's the latest on Conduits:
News on Conduits:
Conduits has received five nominations for the Pocket PC Magazine Best Software Awards 2004! The products that have been nominated are: Pocket Slides, Pocket Artist, Pocket Player, Timekeeper and Peacemaker Pro. The latter application is the only one in the list that has never won a Best Software Award. Here's hoping the other four come out on top again!

News on Products:
Pocket Slides 2.0 is in its final beta testing phase, and should be released very soon. Look out for these new and improved features: new editing shapes, layouts and color schemes, as well as support for backgrounds, hyperlinking, shadows, sound and music.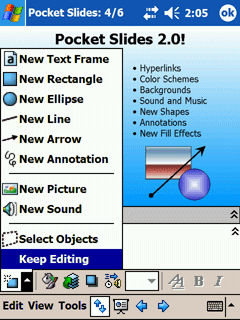 If you would like to participate in beta testing Pocket Slides 2.0, please send an email to pocketslides2@conduits.com for consideration. In your email, please include your device type, desktop PowerPoint version, and any additional hardware you would use in your configuration (VGA Adapters).
Looking Ahead...
Version 2.0 bows of Peacemaker Pro, Pocket Watch, and Pocket Album are still on the docket, as are version 3.0 releases of Pocket Artist and Pocket Player. Stay tuned for future announcements, and feel free to send us product suggestions!
If you would like to see your ideas become part of these updates, please send an email to updates@conduits.com and I will forward them ASAP to the dev team.
And, as always, we welcome your comments. Want a new Pocket PC product? Want a specific product update? Speak up! Email updates@conduits.com and be heard!
All the best,
Carrie Hall
carrie@conduits.com