« Return to Company News
Update: Pocket Launcher 2.2 has been released, with further improvements to start-up time as well as enhancements to the integration with Settings icons. Settings icons can now be dragged individually to other tabs, removed from tabs, and do not affect start-up time as before. Version 2.2 adds full Windows Mobile 2003 Second Edition support as well as inter-icon navigation.
Conduits Technologies, Inc. Releases Pocket Launcher 2.0 for Pocket PC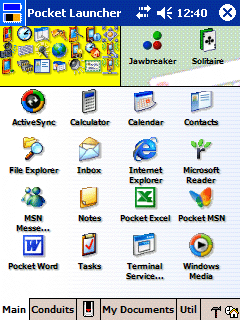 Pictured: Pocket Launcher 2.0 interface, with two extra Panel Views configured to highlight new features.
TAMPA, FLORIDA, March 8th 2004 -- Conduits Technologies Inc. announced today the release of Pocket Launcher 2.0, a customizable application launcher that improves upon the device's built-in program launcher with a tab-based categorization system that is expandable to a user's needs, and customizable to a user's tastes. Pocket Launcher runs on all Pocket PC devices, such as the Pocket PC 2000, Pocket PC 2002, and Windows Mobile 2003 Software for Pocket PC.
Pocket Launcher integrates a collection of large, icon-based lists of applications that are installed on a device. Icons represent their respective applications, and when tapped once, the application is launched. The list of icon shortcuts and categories is initially taken from the user's current layout of the Start and Programs menus, and then copied to another place so that Pocket Launcher can use the shortcut.
Pocket Launcher 2.0 includes advanced features and optimizations to increase its speed. Through the delayed loading of non-visible tabs when starting up, Pocket Launcher is ready for use much faster than in previous versions. Another advanced feature is the ability to hide Pocket Launcher from Task Managers, such that it is not closed by memory managers or common "Close All Tasks" procedures. Several bug fixes are also part of Pocket Launcher 2.0, most notably some button mapping issues on older Pocket PC devices. As in previous versions, Pocket Launcher also supports a small icon view, in which up to 30 icons can be placed on the screen at once. Other features include customizable background colors, landscape mode support, and cleartype integration on the tabs. Background images can be supplied in BMP, GIF, or JPEG formats.
The updated version of Pocket Launcher also includes several overhauls to its interface. First and foremost, the user can split the Pocket Launcher screen into several views, having certain tabs always visible by dedicating whole views to them. These "Panels" can be dragged around, and users may drag-and-drop tabs onto them, and settings for each Panel can be configured.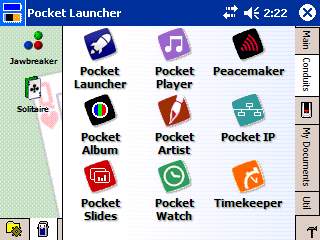 Pictured: Pocket Launcher 2.0 interface, in Landscape mode with tabs docked on the right.
The tab group within each Panel can now be docked to different positions in the Panel. In addition to docking the tabs to the bottom, they may now be docked to the left, right, and top areas of the Panel they reside in. Tabs may also be hidden, for those Panels that only contain one tab. Both tabs and icons can be dragged-and-dropped to anywhere within Pocket Launcher. The drag-and-drop functionality was reimplemented in Pocket Launcher 2.0 to accommodate the different capabilities of the new Panel engine.
Tab backgrounds are now configurable. One may use any number of colors for the tab background, or any picture stored on the Pocket PC. The white-to-blue gradient that was introduced in Pocket PC 2003 is also supported, and changes color based on the current Today Theme. The current Theme's background can also be used as a tab background.
The interface for the icon views is completely customizable with the new features of Pocket Launcher 2.0. Icons can be viewed in standard sizes (32x32 or 16x16) or nonstandard sizes (24x24, 48x48, and 64x64). Pocket Launcher smoothly scales down the icons for these other resolutions, which results in the ability to fit more icons onscreen without compromising image quality or readability.
For those wanting to simply show a toolbar-like Icon View (with no text labeling each item), one must simply uncheck the "Show Text" option for the view. Pocket Launcher 2.0 also features a Shadow special effect that is applied to icons and text, creating a 3-D look and feel to the launcher.
Pocket Launcher is also up-to-date with the latest trends in Pocket PC designs. The program fully supports VGA modes on the Pocket PC, and is both DPI and Landscape aware.
Pocket Launcher 2.0 is available as a commercial demo from http://www.conduits.com/products/launcher, where the user can download and evaluate it for 20 days. Pocket Launcher 2.0 is available for $9.95. Upgrades for customers who purchased Pocket Launcher 1.X before January 1st 2002, are priced at $3.95 from http://store.conduits.com/pola2up.html.
More information, including tutorials, example backgrounds, and a full list of features, can be found at the Pocket Launcher website at http://www.conduits.com/products/launcher/.
Conduits develops several commercial applications for Pocket PC, including Pocket Player (an alternative media player), Pocket Artist (a drawing and manipulation program for Pocket PC) and Pocket Slides (a presentation solution for Pocket PC).
# # # # # # # # #
For further information, press only:
Carrie Hall
Conduits Technologies, Inc.
Telephone: (813) 907-2562
E-mail: carrie@conduits.com