« Return to Company News
Conduits Technologies, Inc. Announces Pocket Player 2.51 for Pocket PC, Plugin SDK Available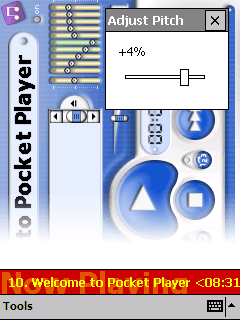 Pictured: Pocket Player 2.51 interface, partitioned to highlight several new features. Background: a section of the landscape "big text" skin; Top-right: the Pitch DSP control window; Bottom: the 'Now Playing' plugin as seen from another application.
TAMPA, Florida - April 13, 2004 - Conduits Technologies, Inc., announced today the release of Pocket Player 2.51, an alternative music player for Pocket PC, supporting the latest media player standards and formats. Pocket Player aims to satisfy the Pocket PC customers who demand more from a media player. Pocket Player runs on all ARM-based Pocket PC devices, such as the Pocket PC 2000, Pocket PC 2002, and Windows Mobile 2003 Software for Pocket PC.
Version 2.51 includes full support for the new Windows Mobile 2003 Second Edition platform, including landscape orientation and support for high-resolution displays (HiDPI support) and square displays. The 2.51 release fixes all issues with the 2.5 release, ensuring a more robust product. Pocket Player now includes a framework for plugin functionality, allowing third-party developers and enthusiasts to create plugins for new decoders (adding to Pocket Player's file format support), new visualizations, audio effects, and general interface plugins.
Support for multiple media formats is one of the defining qualities of Pocket Player. Playback of common audio formats such as MP3 and WMA are supported, as are WAV files that the user has recorded with the built-in Pocket PC Voice Recorder. Playback of Ogg Vorbis files is also supported; Ogg Vorbis is a free, open format that is gaining in popularity due to an increased user base, software and hardware support. With the support of decoder plugins, media format support can be further expanded.
Pocket Player boasts myriad playback features: the user can play files that are stored locally on Windows Mobile software for Pocket PCs, in RAM or on a memory card. The wireless connectivity features of Windows Mobile software for Pocket PCs permit Pocket Player to stream audio files over HTTP connections, and Internet radio stations are supported. In addition, streaming audio files over the user's local network is supported. Advanced audio features such as gapless playback, or track crossfading are also part of Pocket Player's feature set. With the addition of digital signal processing (DSP) plugins, more audio effects can be implemented.
Common features to other media players are also integrated, such as mapping hardware buttons to playback controls, and shutting off the device display after a specified amount of time to save battery life. Track seeking is also supported and enhanced for audio book users. Through the use of the Seek Menu, one can resume playing a track where it left off, or jump a specified amount backwards or forwards in a track. With the use of "general" plugins that can be added to Pocket Player, the interface can be extended.
A Software Development Kit (SDK) is now available from the Pocket Player website, at http://www.conduits.com/products/player/sdk.asp, which includes all the necessary files and features needed to implement the four types of plugins: Decoder, Visualization, General, and DSP plugins. Samples are included with the SDK (and are available separately from the SDK), such as a Module decoder plugin, which plays back MOD files. Also included is a "Now Playing" general plugin, which displays the current song title while working in other applications. For skin developers, Conduits now offers a desktop skin designer and viewer, available with the SDK, called Conduits "SkinMaker."
Pocket Player 2.51 is available as a free trial from http://www.conduits.com/products/player/ where the user can download and evaluate the product unabridged for 30 days. Pocket Player is available for $19.95, from http://store.conduits.com/pocketplayer.html.
More information, including a complete list of skins and features, can be found at the Conduits website at http://www.conduits.com/products/player/.
Conduits develops commercial applications for Pocket PC, including Pocket Slides (a fully-featured presentation solution for Pocket PC) and Peacemaker (for infrared data transfer to other mobile device platforms).
# # # # # # # # #
Pocket Player is a trademark of Conduits Technologies, Inc.. Microsoft®, Windows® and/or Windows® Media® are trademarks or registered trademarks of Microsoft Corporation in the United States and/or other countries. Other product or service names mentioned herein are the trademarks of their respective owners.
For further information, press only:
Carrie Hall
Conduits Technologies, Inc.
Telephone: (813) 907-2562
E-mail: carrie@conduits.com