Conduits Technologies, Inc. Releases Pocket Artist 3.0 for Pocket PC,
Pocket PC 2002 and Windows Mobile 2003 Software for Pocket PCs Released
Award-winning artistic program marks 3.0 release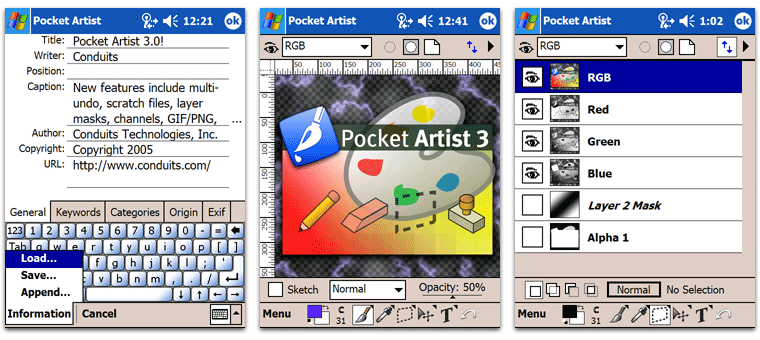 Pictured: Pocket Artist 3.0 interface, highlighting several new features. Left to right: IPTC Caption editor, streamlined Main Interface (with optional Ruler), Layer Mask and Alpha Channel support. More screenshots are available in the documentation.
TAMPA, FLORIDA, April 25, 2005 -- Conduits Technologies, Inc. announced today the release of Pocket Artist 3.0 for the Windows Powered Pocket PC, Pocket PC 2002, Windows Mobile 2003 and Windows Mobile 2003 Second Edition-compatible devices. Pocket Artist is a drawing and image manipulation program for Windows powered devices, and has been awarded the Graphic Design and Drawing Application prize at the Best Pocket PC Software Awards three years in a row.
Pocket Artist 3.0 provides full color graphics editing on mobile devices. The user interface is optimized for small screens while retaining a full set of features-supporting both digital photo management and original art development. Pocket Artist fully supports a variety of graphics formats, such as JPG, GIF, PNG, BMP and the multifaceted PSD format. With Pocket Artist 3.0, users can open, edit and save multi-layer images with their Pocket PC.
New and exciting product features include multiple undo levels (keep a running history of your work), captions (full EXIF and IPTC editing), a new memory manager, layer masks (and custom alpha channels), more filters (Unsharp Mask, Difference Clouds and Noise, with a plug-in framework), file formats (GIF/PNG saving) and much more. Several image tools are also integrated into Pocket Artist 3.0, including a GIF Animation builder, batch JPEG processing and system clipboard integration.
PHOTO PROCESSING
Pocket Artist 3.0 unleashes new capabilities for digital photography processing. A new memory manager enables various mobile devices to open larger digital images than memory would normally permit. Pocket Artist utilizes memory swap files on a storage card to achieve this effect; as the built-in memory limit is reached, swap files are created on storage cards to store image data. IPTC Caption editing has also be added into Pocket Artist: a fully featured editor for JPEG and PSD metadata assists in tagging images. Pocket Artist also integrates Batch JPEG Processing, for caption editing of multiple images at a time, and for lossless JPEG transformations. With the Batch Wizard, lossless (no JPEG recompression) functions include rotation, flipping, cropping and grayscale reduction. Image resizing is also included in batch mode. The JPEG engine supports the same swap files that normal editing can use, and therefore provides lossless transformation of virtually any size JPEG.
CREATIVITY ENHANCEMENTS
Pocket Artist 3.0 also builds upon the rich editing features found in previous releases by adding new capabilities to the drawing experience. Multiple undo steps are now possible when editing - Pocket Artist can step back and forward through the history of an image as it is being edited - no more need to repeatedly save the image before actions.
All commands are now undoable, including layer merging and canvas rotation. Pocket Artist has expanded the available Filters offered in the software, by adding new built-in ones and by providing an application interface (API) for third parties to develop plug-ins. New filters include Add Noise, Unsharp Mask and Difference Clouds. Layers can now feature separate masks, which enable the user to hide portions of a layer without actually deleting its data. Alpha channels separate from any layers are also supported, which can produce rich effects (named "channel ops") and perform spot color operations. Animated GIF support is also included, both when loading and saving. Frames of an animated GIF are added to the document as separate layers, and a multi-layer image can also be exported as an Animated GIF. Pocket Artist features advanced image quantization as well as an Animation Wizard where the user can add and edit the frames of an animation, and apply different delay and draw settings.
USABILITY IMPROVEMENTS
Other features added or enhanced with Pocket Artist 3.0 improve upon the imaging interface. Grid, guides and rulers support enhance stylus precision when using various tools. The Open Image browser has been enhanced to add network-mapped drives as well as zooming levels. Color palettes with quantization assist when creating 8-bit images such as GIF, PNG and BMP. A dedicated Zoom Tool and Hand Tool have been added, and the Selection tools enhanced. Image transformations have been refined with numerical accuracy. New Full Screen mode affords more onscreen space to edit images. Finally, HSB and Grayscale modes have been added to the color picker.
Pocket Artist 3.0 is available as a commercial demo from http://www.conduits.com, where the user can download and evaluate the software for 30 days.
Pocket Artist 3.0 is available for $49.95. Upgrades for customers who purchased Pocket Artist 1.X and 2.X before November 1st 2004, are priced at $19.95 from http://store.conduits.com/pocarup.html.
More information, including plugins, tutorials, brush packs, gradient packs, an online gallery and a full list of features, can be found at the Pocket Artist website: http://www.conduits.com/products/artist/.
Conduits develops many commercial applications for Pocket PC, including Pocket Slides (a fully-featured presentation solution for Pocket PC) and Pocket Player (an alternative music player) and seven other Pocket PC products.
# # # # # # # # #
Pocket Artist is a trademark of Conduits Technologies, Inc.. Adobe®, Photoshop® and/or Adobe® Photoshop® are trademarks or registered trademarks of Adobe Systems Inc in the United States and/or other countries. Other product or service names mentioned herein are the trademarks of their respective owners.
For further information, press only:
Carrie Hall
Conduits Technologies, Inc.
Telephone: (813) 907-2562
E-mail: carrie@conduits.com