Conduits Technologies, Inc. Announces Pocket Player 2.8 for Windows Mobile 5 Smartphone and Pocket PC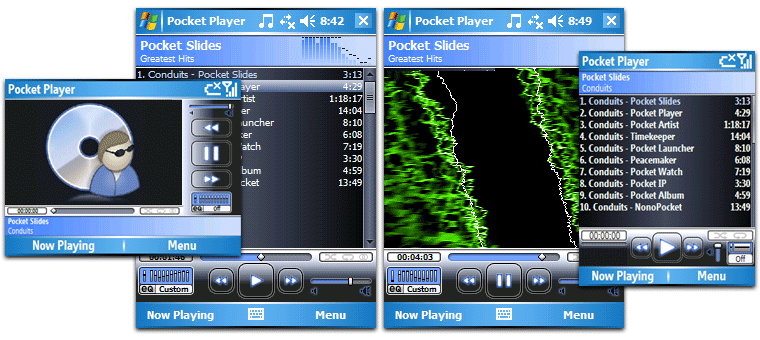 Pictured: Pocket Player screenshots, left to right: Album art and Replay Gain view on Windows Mobile 5 Landscape Smartphone; Default skin interface and equalizer panel; Expanded visualization area on Pocket PC; Default interface and Browsing interface on WM5 Smartphone. More screenshots, including square and landscape orientation display, are available in the Pocket Player website.
NEW YORK, New York - July 24, 2006 - Conduits Technologies, Inc., announced today the release of Pocket Player 2.8, an alternative music player for Windows Mobile 5 Pocket PC and Smartphone, supporting the latest media player standards and formats. Pocket Player aims to satisfy consumers who demand more from a media player on a mobile device. The new version introduces additional device support for the Motorola Q, support for Replay Gain and Widcomm BT Headphone controls, new audio format support, additional plugins and a multitude of bug fixes.
DEVICE COMPATIBILITY
Pocket Player now fully supports the popular Motorola Q device, including special support for the Q's scroll wheel. Users can attach different functionality to the wheel and the front directional pad (e.g. wheel selects track, pad adjusts volume). A skin for the Smartphone landscape orientation of the Q's screen is included.
As with all previous versions of Pocket Player, it is also supported on older devices. Windows Mobile 2003 for Pocket PC and Smartphone are supported, as are older Pocket PC 2002 devices.
AUDIO FORMATS
Pocket Player 2.8 also sports new playback formats. The .AU format (Sun Audio, used by many voicemail systems) is supported, as are Musepack MPC files (the latter is available as an installable plugin).
Volume leveling and attenuation is now integrated into Pocket Player 2.8 by way of the new Replay Gain plugin. The Replay Gain standard is adopted by many software libraries and tags tracks with volume information. By using the plugin available, the user can have all of their tracks (or albums, as a whole) play at the same perceived volume.
PLUGIN EXTENSIONS
Other plugins recently released for Pocket Player 2.8 include the WMP Plugin adapter. This plugin allows Pocket Player to leverage add-ins created for Windows Media Player. The most common examples include the Voice Command plugin and the Microsoft Bluetooth AVRCP plugin.
The Voice Command plugin allows Pocket Player 2.8 to be controlled using Microsoft's Voice Command program (sold separately). Playback controls are supported, as are library functions. The AVRCP plugin is named after a Bluetooth protocol, whereby headphones connected to the device (Windows Mobile 5 devices running the Microsoft Bluetooth stack) can send remote playback commands to Pocket Player.
Other features in Pocket Player 2.8 include:
Open/Add on main menu > File, Folder, or URL
Support for Motorola Q wheel, other jog wheels
New library system is faster and less memory intensive
New Equalizer presets: Quiet, Voice
Browser navigation more intuitive
'Delete' function in Browser, Now Playing
Increased support for Widcomm BT Headphone controls
Podcast plugin options: auto-resume, auto-stop
Visualization modes more intuitive
DSP toggle button
Skin modes for different orientations
'Back' rewinds to start of track
APEv2 tags read
BUG FIXES
All known bugs in Pocket Player have been fixed. These fixes include:
Various crash / exception messages
Protected WMA playback problems
Stretch DSP on MP3 files
Embedded artwork loading in MP3/Ogg files
External artwork in some MP3 files
Browser interface problems
Icons on Motorola Q
Powering down Microdrives properly
Treo keyboard light now turns off
Load skins from Unicode paths
Visualization drawing problems
Smartphone Today screen auto-switching
Various crossfade/gapless errors
Seeking, bookmarks in 32MB+ WMA files
Sort playlist by album / artist
AVAILABILITY
Pocket Player 2.8 for Windows Mobile Pocket PC and Smartphone is available as a free trial from http://www.conduits.com/products/player/ where the user can download and evaluate both products unabridged for 30 days.
For current registered users of Pocket Player 2.X for Windows Mobile Pocket PC and Smartphone, the upgrade is seamless! Simply install the new version of Pocket Player for Windows Mobile Pocket PC on top of your current 2.X version, and the product will automatically upgrade. For new customers, Pocket Player for Windows Mobile Pocket PC and Smartphone are both available for $19.95, from http://store.conduits.com/.
More information, including a complete list of skins and features, can be found at the Conduits website at http://www.conduits.com/products/player/.
Conduits develops commercial applications for Pocket PC, including Pocket Slides (a fully-featured presentation solution for Pocket PC) and Peacemaker (for infrared data transfer to other mobile device platforms).
# # # # # # # # #
Pocket Player is a trademark of Conduits Technologies, Inc.. Microsoft®, Windows® and/or Windows® Media® are trademarks or registered trademarks of Microsoft Corporation in the United States and/or other countries. Other product or service names mentioned herein are the trademarks of their respective owners.
For further information, press only:
Carrie Hall
Conduits Technologies, Inc.
Telephone: (212) 248-5730
Fax: (212) 248-5794
E-mail: carrie@conduits.com