Conduits Technologies, Inc. Releases Pocket Launcher 3.0 for Windows Mobile Pocket PC and Smartphone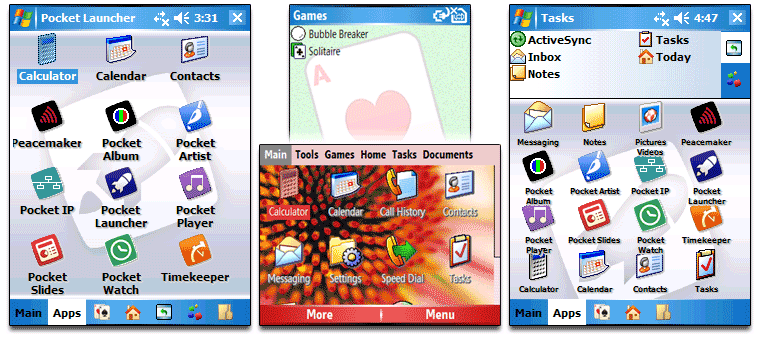 Pictured: Pocket Launcher screenshots, clockwise from left: Default view on Pocket PC; Smartphone showing Games tab with customized background; Pocket PC alternate view with multi-panel support and Task Manager at top; Landscape Smartphone keyboard quick search support. More screenshots are available in the Pocket Launcher website.
Digg this Add to del.icio.us Tweet this

NEW YORK, NEW YORK, January 22, 2007 -- Conduits Technologies, Inc. announced today the release of Pocket Launcher 3.0, a customizable application launcher that improves upon the device's built-in program launcher with a tab-based categorization system that is expandable to a user's needs, and adaptable to a user's tastes. Pocket Launcher runs on all Windows Mobile 5 Pocket PC and Smartphone devices, as well as Pocket PC 2002, Pocket PC 2003, Smartphone 2002, and Smartphone 2003 devices.
Pocket Launcher integrates a collection of large, icon-based lists of applications that are installed on a device. Icons represent their respective applications, and when tapped once, the application is launched. The list of icon shortcuts and categories is initially taken from your current layout of the Programs screen, and then copied to another place so that Pocket Launcher can use the shortcut.
Pocket Launcher also links a tab to the My Documents folder, providing quick access to your documents from within the program. You can navigate into sub-folders and add tabs that link to any other folder on the device. Version 3 improves upon previous releases by way of hardware compatibility, integration with the device, and new tabbing features.
DEVICE/HARDWARE COMPATIBILITY
Pocket Launcher 3.0 marks the debut of the application for the Smartphone platform. Instead of using a strip of tabs along the bottom (which is still accessible), you can use the softkeys on the Smartphone to navigate to different tabs. The "1" through "9" keys will launch whichever application is listed onscreen in that position. The "0" key pops up a quicklist of all tabs.
For Pocket PC devices with softkeys, they are now integrated to move to the previous or next tab in Pocket Launcher. Devices with scroll wheels, such as the HTC Hermes or Motorola Q, function properly with Pocket Launcher; the wheel scrolls through all icons onscreen, advancing to the next tab when necessary.
For devices with keyboards, typing a few letters will pop up an auto-generated quick list of all shortcuts that match the entered text. For example, typing in 'so' will include links to Solitaire; typing 'me' will include links to Messaging and Windows Media. This "search-as-you-type" feature will also search your document filenames as well and include them in the list.
DEVICE INTEGRATION
Version 3 improves on the Start/Programs integration with the device. On the Pocket PC, you can "bind" Pocket Launcher to pop up whenever you tap on the Start bar at the top of the screen, or have Pocket Launcher replace the standard Programs screen by binding it to the Programs menu. On a Smartphone, a similiar feature is in place; you can bind Pocket Launcher to the "Start" softkey on your Home screen.
Pocket Launcher now features an integrated Tasks manager, for easily closing down applications that you are not using, if so desired. The Tasks tab allows you to switch to a running application, close it, or close all applications from Pocket Launcher. Version 3 also adds a "Recently Run" tab, where applications that have been recently run will show up.
NEW TABBING FEATURES
The visual display of the tabs has also been improved in version 3. The new "squeeze" mode can display four columns of large icons on Pocket PC or Smartphone, allowing for more links onscreen at once. As previously described, new tabs can also be linked to folder contents. By way of the Add Tab - Link To command, a tab can be a virtual File Explorer on your device.
The 'Today' tab, first introduced in Pocket Launcher 2, has been improved. The tab now functions on Smartphone devices, and can now send keypresses to the Today screen. This allows you to never leave Pocket Launcher; the Today/Home screen can show up as a tab, and items can be selected on it with the stylus (for Pocket PC) or keypad (for Smartphone).
Pocket Launcher is also up-to-date with the latest trends in Pocket PC designs. The program fully supports VGA modes on the Pocket PC, supports Landscape Smartphone devices, and is DPI aware.
Pocket Launcher 3.0 is available as a commercial demo from http://www.conduits.com/products/launcher, where you can download and evaluate it for 20 days. Pocket Launcher 3.0 is available for $9.95.
For registered users of Pocket Launcher 1.X or 2.X for Pocket PC from January 2006 to present, the upgrade is free. Upgrades for customers who purchased Pocket Launcher 1.X or 2.X before January 1 2006, are priced at $3.95 from http://store.conduits.com/pola2up.html.
More information, including tutorials, example backgrounds, and a full list of features, can be found at the Pocket Launcher website at http://www.conduits.com/products/launcher/.
Conduits develops commercial applications for Windows Mobile devices, including Pocket Slides (a fully-featured presentation solution for Pocket PC), Pocket Player (an alternative music player), Pocket Artist (a drawing and image manipulation program) and seven other Pocket PC products.
# # # # # # # # #
For further information, press only:
Carrie Hall
Conduits Technologies, Inc.
Telephone: (212) 248-5730
Fax: (212) 248-5794
E-mail: carrie@conduits.com