<% startNotice() %> Update: Pocket Player 3.01 has been released, with all bug reports in 3.0 fixed, including some critical lock-up reports. Further improvements to program responsiveness, playback, UPnP support, and skin support have been implemented. Also introduced is an Audioscrobbler plugin, which interfaces with the Last.fm website whereby you can keep track of your listening habits. <% endNotice() %>

Conduits Technologies, Inc. Announces Pocket Player 3.0 for Windows Mobile 5 Smartphone and Pocket PC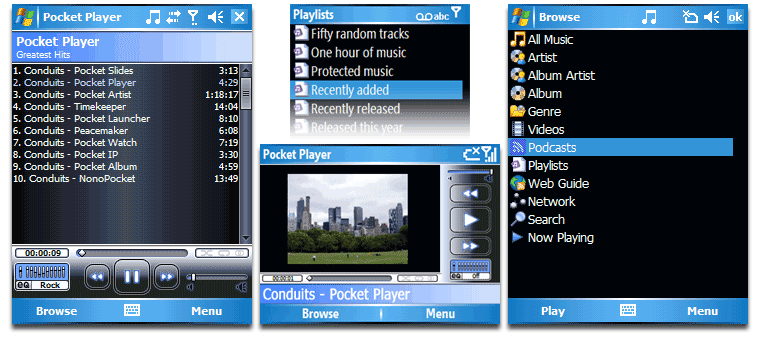 Pictured: Pocket Player screenshots, left to right: Default view and Album art visualization; Smartphone smart playlists and video support; Browser highlighting new podcast and networking functionality. More screenshots, including square and landscape orientation display, are available in the Pocket Player website.

<% bookmarkThis "Pocket Player 3 for Windows Mobile: UPnP, Video, Podcast Streaming", "http://www.digg.com/software/Pocket_Player_3_for_Windows_Mobile_UPnP_Video_Podcast_Streaming" %>

NEW YORK, New York - September 25, 2006 - Conduits Technologies, Inc., announced today the release of Pocket Player 3.0, an alternative media player for Windows Mobile 5 Pocket PC and Smartphone. Pocket Player aims to satisfy consumers who demand more from a media player on a mobile device. The new version sports video support, a new library engine to handle thousands of tracks, smart playlists, supports skins designed for Windows Media Player, and introduces new connection options such as downloadable album art, podcast streaming and Universal Plug-and-Play (Windows Media Connect) connectivity.

VIDEO PLAYBACK

Pocket Player 3.0 introduces video playback to the software. An oft-requested feature, this new release leverages the video playback components of Windows Mobile 5 to provide playback of WMV video inside of Pocket Player. Video can be played back in either fullscreen or skin mode.

By using the Windows Media Player 10 Mobile components included in Windows Mobile 5, Pocket Player can view any video that WMP10 Mobile supports. For instance, in addition to standard WMV support, many devices are bundled with video decoders for mobile formats, such as 3GP or AVI. Pocket Player will detect that additional support, and will enable those filetypes to play back within the program, and will show those extra filetypes within the Browser. Since Pocket Player is built on a plugin-based architecture, more video formats will be supported in the future.

LIBRARY EXTENSIONS

Since version 2.7, Pocket Player has featured a track library that keeps a roster of all tracks and playlists on the mobile device. Pocket Player scans the metadata of the track and keeps this library up-to-date automatically without user intervention. For version 3.0, the library has been redesigned to work seamlessly on devices with thousands of tracks.

Multi-gigabyte memory cards have become commonplace among mobile device users, and can store larger music libraries (for example an 8GB card can hold 2000 tracks). Browsing the library has been sped up by orders of magnitude, and the library database is stored between instances of running Pocket Player. This enables Pocket Player to act as a truly dedicated digital media player.

The metadata Pocket Player scans has also been expanded. In addition to the common tags scanned (Artist, Album, Title), Pocket Player now supports scanning of embedded lyrics, fixes album art information scanning, and also fixes Replay Gain (volume leveling) information. Further, Pocket Player 3.0 also supports the up-and-coming ID3 chapter tag information. These tags provide embedded markers in podcasts and audio books that feature a table of contents, timecode data and chapter artwork.

CONNECTIVITY: PODCASTS, WEB RADIO

Pocket Player now supports browsing podcast feeds from within its "Browser" function. The Browser's "Podcasts" screen now links to a list of bookmarked feeds. Selecting a feed will download the podcast's list of episodes, and from there, the user can stream a podcast directly to their device. This alleviates the problem of having to download large files (one-hour podcasts can be up to 60MB) and streams the file instead. Seeking to mid-stream as well as auto-resume are also now supported for this playback.

In addition to podcast browsing, Pocket Player now sports a general purpose web feed browser. The Browser's "Web Guide" screen now loads a directory of web materials hosted at Conduits.com, which provides an in-program directory of radio streams of various genres. The user is able to bookmark links to various podcasts as well as web radio station streams. The Web Guide and podcast browsers are built on XML standards, and can view RSS feeds or OPML lists.

CONNECTIVITY: UPNP

Pocket Player now sports Universal Plug-and-Play (UPnP) features. By installing the new UPnP plugin, Pocket Player can connect to, browse, and play networked media content with ease. The UPnP AV Media Standards are a set of specifications for networked devices to allow users and other devices manage, deliver and play multimedia content. There are many hardware-based UPnP AV devices on the market, and Pocket Player 3.0 transforms any Windows Mobile device into one of them as well. Pocket Player supports the three standards of UPnP multimedia connectivity: Media Renderer, Media Controller and Media Server.

UPnP "Media Servers" store your media library. The most common is Microsoft's implementation, Windows Media Connect (WMC). WMC runs on your desktop PC and shares various types of media files to UPnP "Media Controllers" and "Media Renderers". Media Renderers are the actual playback devices or player software. Media Controllers act as a remote control: browsing Media Servers and directing the content from the Server to the Renderer.

Pocket Player is first and foremost a Media Renderer. It can play various media types that any UPnP device delivers to it. Any Windows Mobile device running Pocket Player with a network connection (e.g. WiFi, Bluetooth Personal Area Networking, or ActiveSync network passthrough) can be controlled by various UPnP devices, including all playback functions (Play, Pause, Volume).

Pocket Player 3.0 is also a Media Controller, meaning that in the Browser, there is a new "Network" choice. This section will browse any Media Servers that it detects, and can browse the contents from within Pocket Player. Since Pocket Player is a Media Renderer, any supported content (audio files that Pocket Player supports) can be queued up from within the Browser and played locally on the device, complete with seek, auto-resume, equalizer, and visualization support.

Finally, Pocket Player is also a Media Server; any content located on the mobile device itself is also shared to other Media Controllers, including other Windows Mobile devices running Pocket Player. Users with multiple devices can therefore create their own home network of content, with Pocket Player powering the connectivity and playback between any media on any mobile device, or to play back from a centralized WMC server. Two users could connect their Windows Mobile devices (with WiFi Ad-hoc networking, or Bluetooth Personal Area Networking) and share their music tastes by streaming their collections between devices.

USABILITY IMPROVEMENTS

Pocket Player 3.0 sports several new features to improve usability. One-handed navigation has been improved in the browser: the last location is retained when going back into the Browser, which makes jumping in and around of the Browser much easier. While scrolling down the list with the keypad, the speed is accelerated while the key is held longer, and the list will also wrap around from bottom to top (and vice versa). Animations have also been added to give visual feedback to navigation.

A search mechanism has now been added to the Browser. It searches common tags in all tracks on the device, and searches while you type. As all other features, it's fully compatible on both Pocket PC and Smartphone, and is especially useful on devices with keyboards.

A new playlist format has been introduced for Pocket Player 3.0. These "smart" or "automatic" playlists are files that don't reference a list of specific files, but instead reference search terms for Pocket Player's media library. For instance, the "Recently released" playlist queries Pocket Player for all tracks with a tagged release date of the last six months. The queries are performed whenever the playlist is loaded, and therefore are always up-to-date with whatever media is on the device. Users are available to create their own playlists for customized results.

Skin support in Pocket Player has been expanded. Pocket Player has its own native skin format, and also supports Winamp skins. For version 3.0, Pocket Player now supports loading skins from Windows Media Player. Many WMP skins have been developed and can now be used as the interface for Pocket Player.

The album art visualization in Pocket Player has been improved. It can now download missing album art in the background, while songs play. Finally, "real" fullscreen visualizations have been implemented, which hides the Start bar and the bottom menu bar during playback.

OTHER IMPROVEMENTS

All known bugs in Pocket Player have been fixed. These fixes include:
Album art missing from some tracks
Open Folder interface redone
"Now Playing" screen easier to use on Motorola Q
Scroll wheel bugs fixed on the Motorola Q
Various metadata/tag reading problems
Library rescans each time Pocket Player is launched
Menubar, navigation problems on Smartphone 2003
AVAILABILITY
Pocket Player 3.0 for Windows Mobile Pocket PC and Smartphone is available as a free trial from http://www.conduits.com/products/player/ where the user can download and evaluate both products unabridged for 30 days.
For registered users of Pocket Player 2.X for Windows Mobile Pocket PC and Smartphone from September 2005 to present, the upgrade is free. Upgrades for customers who purchased Pocket Player 1.X and 2.X before September 1st 2005, are priced at $9.95 from http://store.conduits.com/popl2up.html
More information, including a complete list of skins and features, can be found at the Conduits website at http://www.conduits.com/products/player/.
Conduits develops commercial applications for Pocket PC, including Pocket Slides (a fully-featured presentation solution for Pocket PC), Pocket Artist (a drawing and image manipulation program) and seven other Pocket PC products.
# # # # # # # # #
Pocket Player is a trademark of Conduits Technologies, Inc.. Microsoft®, Windows® and/or Windows® Media® are trademarks or registered trademarks of Microsoft Corporation in the United States and/or other countries. Other product or service names mentioned herein are the trademarks of their respective owners.
For further information, press only:
Carrie Hall
Conduits Technologies, Inc.
Telephone: (212) 248-5730
Fax: (212) 248-5794
E-mail: carrie@conduits.com