Supported Platforms:

Windows Mobile 5
Windows Mobile 2003
(inc. Second Edition)
Pocket PC 2002
Pocket PC 2000
Handheld PC 2000

Key Features:

Simple conversion of PowerPoint® presentations
Transitions and animations
Sound and music support!
Design using slide Layouts, Master slides and customizable Backgrounds!
Output to projector, TV, or monitor with supported VGA devices
Navigate presentation from a distance using various remote controls!
Create or edit on-the-go! Add shapes, edit text, change speaker notes and more!
Round-trip conversion: convert back to the desktop. Make edits on the go and merge the changes back into PowerPoint®!
Hide or reorder your slides
View speaker notes or slide contents
Copy slide and shape text to Clipboard, paste into Pocket Word or Inbox
View slide shows in Fullscreen with display rotation
Annotate slides during presentations and save them for review!


Pocket Slides received
Best Of COMDEX 2001
Finalist Best Mobile / Handheld Software!

Pocket PC Magazine Best Software Awards 2003 Winner: PowerPoint and Presentation Software

Pocket PC Magazine Best Software Awards 2002 Winner: PowerPoint and Presentation Software



Pocket Slides allows creation, editing, and playback of presentations on your Pocket PC.
Pocket Slides enables users to employ presentations on their mobile device by viewing and giving presentations, and is the only product on the market that permits the creation and editing of presentations on the mobile device. Existing presentations from Microsoft® PowerPoint® can be transferred from the desktop to the device using Pocket Slides' Conversion software, and Pocket Slides Presentations can be converted back into PowerPoint®.
Pocket Slides 2.51 improves upon earlier versions by increasing the overall product strength—broader support for VGA hardware and remote controls, new export options, and improved sound and music support. The four main uses of presentations—creation, viewing, editing, and presenting—have all been improved and expanded with Pocket Slides 2. Pocket Slides has been localized into seven languages.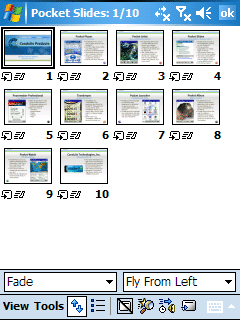 New Features in Version 2.51:
Windows Mobile 6 Support
PowerPoint 2007 Support
Fixes all known issues on Pocket PC and Desktop
Key Features:
Create, edit, view and give presentations
Sound support (animation sound effects, sound "objects")
Play MP3, WMA, or Ogg Vorbis music in your presentation (Pocket Player required)
Expanded support for VGA devices and Bluetooth remote controls
Slide layouts, Master slide design, Slide Backgrounds, Slide hyperlinks
Color Schemes
Flash Once / Disappear / Dim After Animation effects
Arrow objects, Curve (annotation) objects
Full Action Settings support, including slide navigation and multimedia playback.
Language Packs available for Chinese, French, German, Italian, Japanese, Portuguese and Spanish.
PowerPoint® file embedding for round-trip document management
Load large presentations (over 100+ slides)
"Save Annotations" in presentation supported
VGA device and resolution autodetection
Load large presentations (over 100+ slides)
Predictive memory allocation engine
Increased compatibility with Storage Cards, Inbox and File Synchronization
Standalone document conversion
Export slides as JPEG or PNG images
Convert from PowerPoint 97-2007
Support for Dell Axim X50v/X51v VGA Output
Support for viewing on Spectec miniSD VGA device