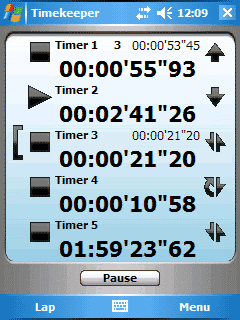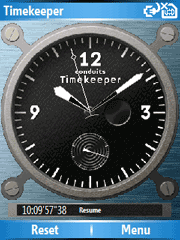 Timekeeper 2.11 is a customizable high precision multi-function stopwatch for Windows Mobile Pocket PC and Smartphone. Packaged with unique activity skins, Timekeeper allows you to time a relay, clock a chess match, or bake an apple pie. When time is up, Timekeeper wakes the device and alerts you! Track your performance over time with Timer Session history and export your data to other programs or email! Timekeeper will keep you on the go and up to speed!
Key Features:
Full Windows Mobile 6 Professional and Standard support
Windows Mobile 5 Pocket PC and Smartphone support
Square screen, landscape screen support
Up to 32 independent timers available!
After exiting, keeps counting with notifications, for reliability
Optionally keeps device and backlight on, for visibility
Four distinct modes: count down/stop, count down/repeat, count down/up, and count up
Skin files catered to determine look and feel, location and number of timers
"Activities" to organize groups of settings. Each activity specifies a skin, modes of all timers, and preset times.
"Timer Sessions" logs timer values over successive runs for tracking performance
Quick access menus to set times
Customizable sounds for alarms, laps
Hardware button mapping
Changable Preset Time list of common activities
Lap functionality for Count Up timers
Integration with hardware buttons to start/stop timers, reset, lap, etc.